Been a while since I've last updated this blog. It's the school holidays now, so I'll be having so much time, with so much to write (overdue/expired stuff mostly) but sadly so little desire. One reason being difficult to upload photos onto Photobucket. I've made up my mind that every post should have a photo/picture. Like the ones in tabloid mags with the caption "Gambar hiasan".
Anyhows I suppose i'll write about a couple of stuff in this post.
1) SCHOOL-LEVEL TEACHER'S DAY
Our school had our Teacher's Day celebration on May 19, a Friday. We didn't have it on its actual day because exams were on then. It's a really special occassion for me. Honestly I was excited. Well, because it was to be the first time celebrating that special day as a teacher. For once I will be appreciated *grins*.
SO first on the programme was an assembly. Then the reading of the speech from i don't recall who, but i guess it's either the Minister of Education or the Director. Didn't matter anyway *smirks*. Then the student rep gave a short speech...or was it a poem/sajak. Darn, just shows that I wasn't paying attention.
It became more interesting next, when it was the time to do the Poco-poco! So we had 4 students to show the rest of us how it was done. I guess we were doing ok for the first minute or two, and then we began to lose our steps...and finally everybody just stopped and just watch those 4 students strutting their dance moves. What was meant to be an exercise became a show haha. They were good though. Darn, now that I think of it, should have taken a video!
After that, it was time to get down and dirty...for us boys...those small boys and us big boys. Football! So the 5 of us men and a couple of students went against the whole boys (including unlimited subsitutions la). From the kick off the ball was passed to me, and in dash, 3 kids were around me. All i should do was make a simple pass to Uztaz Fairuz. But like what any real men would do, I tried to do the extravagant. There I was dragging the ball away from the 1st kid. Dummied the other. Turned the ball on the third. Ok time to pass. Swung my foot. SPLAT!!! Zidane-wannabe fell on his butt. SO it occurred to me...futsal shoes aren't meant for the field...especially a muddy and wet one. Studs matter. Scored a goal and we won the game 6-3...and had mud all over me.
Then I spent some time with my kids. They had brought some gifts for me. I lost count. Because they were all for the tummy haha. Some bottled drinks. Chocolates. Keropok durian (I despise durians but i didn't want to disappoint the kid who gave me that, so I told her I'll eat it at home....which I didn't la). There were some cakes and sandwiches. Good Lord, these kids really know how to feed their teacher. So here's a photo of my class kids, them lovely little buggers: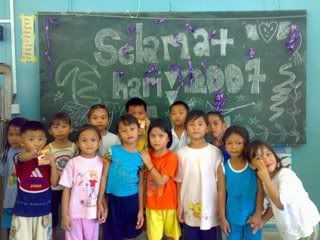 Front L-R: Franklin, Vanessa, Filicia, Sophia, Carberinie, Ronia, Francisca
Back L-R: Darriene, Fazzira, Flora, Calvin, Micky, Steward
Not in picture: Nur Syakirah (apparently she hates taking pictures)
2. GLORY GLORY MAN UNITED
I'm a Manchester United die-hard. Always have..always been..always be. It doesn't trouble me that a vast majority of my cousins & uncles on my mom's side are Liverpool fans. In fact I'm probably the only serious MU fan.
Anyhows, despite my devotion to this club, I've never owned a jersey. I did have one when I was around 8 or 9. I wasn't a fan then, that was before i fell in love with football.
So last month I bid for an MU away jersey on Lelong.com.my. Somehow some problems came up and i ended up receiving the jersey almost 3 weeks late, on a Saturday, just in time for the FA Cup final...which we lost though.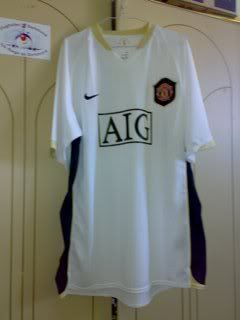 The Loves of my life, God...family...Manchester United, in that order. Heck, i think even during the times I was in relationships, my girlfriends weren't even placed above MU...LOL...sorry babes.